Dr. Keith Yocum D.C.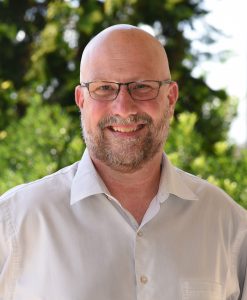 I was first introduced to chiropractic at the age of sixteen. Then four years later, while working in construction, I suffered from severe lower back pain. After trying all of the conventional treatments I finally tried chiropractic and it worked! It worked so well that I decided to switch paths in life and begin my undergraduate studies to become a chiropractor.
I have been in practice in the West Chester, PA area for the last 21 years. I also had a small Christmas tree farm that I ran with my wife, Kim. After many years of running a busy practice and a farm I decided to focus all of my efforts on my true calling, chiropractic. So in 2015 we sold our farm and sold an established practice and moved to Elizabethtown to raise our five year old twins in a small town where we work, live and can be active members in the community.
I am an active member of the Elizabethtown Rotary Club. I enjoy bicycling and camping with my family. My passion is to help people help themselves heal, the same way I did.
Tracey Steele

I am originally from the Northwest of England. You will be able to tell from my accent. I am married with 3 grown children and one beautiful granddaughter. My husband and I are now empty nesters apart from our adored chocolate and yellow Labrador dogs. I became a US citizen in 2017, so there is NO sending me back now. I look forward to meeting you when you visit our office.
Kim Yocum

I was a graphic designer for 8 years and realized I could not sit at a desk for 8-12 hours a day without any interaction with people. That is when I made the decision to change careers and I worked as a business sales rep for a coffee company in Philadelphia and surrounding counties.
I met Keith in 2006 riding motorcycles and we got married in 2007. We lived on the Yocum Family Christmas tree farm for several years. After becoming pregnant with twins in 2010 I decided to be a stay at home mom and operate the greenhouse on the farm. As the twins were growing we realized Keith was never able to spend time with us as a family. We made the decision to sell everything and move to a small town where we can work, live and be involved. Born and raised in Manheim, Elizabethtown was like coming back home to me. When we purchased Elizabethtown Family Chiropractic in 2015 we decided it would be best if I became the office manager.
I had never been to a chiropractor until I met Keith. I was amazed at how much of a difference it made in allowing my body to function better. He not only adjusts my neck and back, but my hips, shoulders and knee. It has improved everything I do on a daily basis. Our twins get an adjustment on a regular basis as well. They rarely get sick and I believe it is because of the adjustments. So far, I have enjoyed getting to know our patients on a personal level and expanding my knowledge about how chiropractic care can changes peoples lives.